.
.
Conference Hotel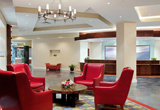 This year's conference headquarters is the Downtown Lexington Hilton located in the heart of Downtown Lexington overlooking Triangle Park.
Hilton Lexington/Downtown
369 Vine Street
Lexington, Kentucky 40507
Phone: 859-231-9000
Fax: 859-281-3737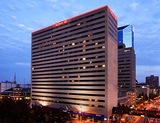 Rooms are available at the special conference rate of $95 per night.
NOTE ON AVAILABILITY: If all of the accessible rooms at the Hilton are booked, please contact Lauren Reed at the Hyatt Regency Lexington at 859-519-4139. The Hyatt is just across the street from the Hilton. Tell Lauren that you want to reserve one of the accessible rooms that Kylie Hendress has on hold for the AgrAbility National Training Workshop, March 31-April 3.
If you are planning to stay Thursday night, the room block at the Hilton is full. There are several overflow rooms booked at the Hyatt that you can reserve with Lauren Reed if you need to book a room for Thursday night. Please note that the room rate at the Hyatt is $119 per night.
Last updated: 06-Feb-2014 2:52 PM
For more info...
Kylie Hendress
National AgrAbility Project
225 South University St.
West Lafayette IN 47907-2093
khendres@purdue.edu
(800) 825-4264
Off-site Events
Several sites are featured for the off-site events including Cardinal Hill Rehab Hospital, FoodChain, Kentucky Horse Park, Buffalo Trace Bourbon Distillery, and AgrAbility Client Farms.