.
.
Conference Hotel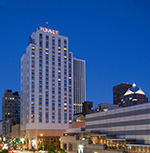 This year's conference headquarters is the Hyatt Regency Rochester located in downtown Rochester
Hyatt Regency Rochester
125 East Main Street
Rochester, NY 14604
Reservations: 888-421-1442
Phone: 585-546-1234
Fax: 585-546-6777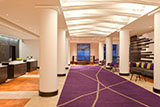 NOTE ON ACCESSIBILITY: The Hyatt has 18 accessible rooms with bathtubs and shower benches, however none of them have roll-in showers.
If you require a roll-in shower or if all of the accessible rooms at the Hyatt are booked, there are a limited number of accessible rooms reserved at the Radisson Rochester Riverside. If you need to reserve one of these rooms, please contact Kylie Hendress at 765-494-6679 or khendres@purdue.edu.
Photos by Hyatt Regency Rochester


Last updated: 30-Sep-2014 2:45 PM
For more info...
Kylie Hendress
National AgrAbility Project
225 South University St.
West Lafayette IN 47907-2093
khendres@purdue.edu
(800) 825-4264
Off-site Events
Several exciting off-site events are planned for the workshop this year